Hello everyone! I am back after a few days of festivities here in India. Today the product i want to share my views about is MAC Technakohl Liner in Graphblack.
MAC Kohl Power Eye Pencil kohl pencil that has all the intensity and colour power of ultra-soft carbon. Specially formulated to provide deep, fully opaque coverage. Provides an intense, smoked finish with duochrome pearl. Versatile in application: Blend or smudge. An eye liner with rich colour and a silky smooth, matte/pearl finish.
Price : US$ 16.50 / Rs1100 for 0.35g
Product Claims : A mechanical pencil style liner with a soft and creamy formula and intense color.
Mac Smolder Eyeliner
My experience with the product
So first things first, if you are an Indian (or from the middle east for that matter), you know you love kohl more or less like you love your mummy!! You think you need it like the air in your lungs and you go into respiratory distress if you can't locate it in your vanity bag! I am pretty much like that! If it's only one thing i would use before stepping out then it would be my trusty kohl. And honestly, i have had people ask me if i am unwell if they see me without kohl!
So of course the Indian make up industry also knows this about us gals and hence, the market is flooded with kohl & kajal pencils priced from Rs50 onwards.
And if you are a kohl junkie like me,you would have tried most of them! Well, i have. So when i say that this might me the best thing i have put on my eyes.. you should listen up!!
The packaging of the product is classic MAC and oh-so-chic. It comes in a black cardboard box like most MAC products and the kohl itself is housed in a sleek black pencil in a twist-up form. It is retractable, which means if you twist up way too much, you can twist it right back into the pencil casing.. which is not the case with some gel based pencil kohls from MAC. And mechanical pencil means no sharpening required so that saves a lot of product and less messy. Also, you can easily travel with it without bothering about carrying a sharpener along.
The consistency is the softest and smoothest one i have come across. It feels sooo cushiony that you almost forget you are applying a pencil. No tugging at all. Super comfortable! It blends easily if you are going for a smoky look. It can be applied at a 90° angle for a thin precision line and for a thicker application, you have to apply at a flat angle.
The color payoff of this kohl is phenomenal. Now dont be fooled by some of the reviews you have read before, it's not the blackest of black you will ever come across. But, in a single swipe, it's still very very good for a non-gel product.
Mac Eye Pencil
Furthermore, it comes in 37 shades!!! You can't ask for more!
The kohl is smudge proof as the company claims. Once it is set, it does not budge. So i agree that it is long lasting. In Fact, it is the most long lasting pencil kohl i have ever used on my oily lids.
It is sweat proof (gym safe) and survived the hot n humid Indian summer! 👍 But it is not completely waterproof. So if you apply soap and try to rub it, some of it will fade. Personally i don't like to use waterproof products on my eyes because i have to rug and tug with makeup remover to remove it and i end up loosing some lashes. So water resistant works best for me.
To completely remove it,you have to use an oil based makeup remover.
The BEST thing about this kohl is that it is completely non allergenic. My eyes are really sensitive and would get red after few hours of kajal application. But this product just does not cause any redness at all. It is completely safe to wear by contact lenses wearers and can be safely applied on the waterline too.
Overall, I am in loveee with this product. I reach for it every single day for the last 3 months and i can see myself purchasing it over and over again. It is a bit pricey but its MAC you know. I would rate it a 4.9/5. (if only it were the blackest black).
Feel free to comment and like this post. Share it with your friends! Spread the love!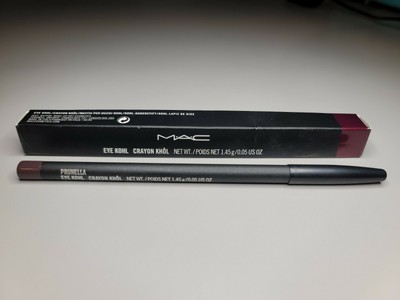 Lets be friends!
Instagram Click here
Twitter click here
Disclaimer : This product has been purchased by my own money and i am not sponsored in any way to review it. All opinions mentioned are my own.
Disclaimer: We are using Amazon affiliate Product Advertising API to fetch products from Amazon, include: price, content, image, logo, brand, feature of products which are trademarks of Amazon.com. So, when you buy through links on our site, we may earn an affiliate commission at no extra cost to you.. Read more.
#
Preview
Product
Price
1
MAC Eye Kohl - Teddy - 1.36g/0.048oz

$25.99

2
MAC Eye Kohl Smolder 1.36 G Jet Black

$38.75

3
MAC Eye Kohl Phone Number

$24.50

4
MAC Eye Kohl Eyeliner-smolder, 0.05 Ounce

$19.00

5
MAC Eye Makeup Eye Kohl, Prunella

$21.43

6
MAC Eyeliner Kohl Power Eye Pencil Eye Liner, Feline

$34.04

7
MAC Eye Kohl Eyeliner - TEDDY - Intense Bronze -1.36 g

$24.49

8
Mac Eye Kohl Eyeliner Pencil Teddy by MAC

$45.48

9
MAC Eye Kohl - Fascinating - 1.36g/0.048oz

$23.78

10
MAC Eye Kohl Phone Number

$34.99
Purchasing products such as laptops from different dealers or retailers can be a daunting task. This is even worse if you don't understand much about Mac Kohl Eyeliner. One of the most important things to consider when it comes to buying a Mac Kohl Eyeliner is the specs of features.
Why You should Buy the Best Mac Kohl Eyeliner on Amazon
There is a reason why many people prefer buying products from Amazon. Despite being a credible platform, Amazon has a variety of laptops and also works directly with manufacturers. This means that instead of purchasing your laptop from a retailer, you get it directly from the manufacturing company.
Amazon serves as a third-party and works with various manufacturers across the world. The good thing about Amazon is that it offers a perfect guide about each type of laptop.You will see a clear description of each Mac Kohl Eyeliner. This makes it easy for you to make the right decision.
For instance, the guide has information regarding the specs of the Mac Kohl Eyeliner you want such as brand, size, function among other features. In case you want a Mac Kohl Eyeliner with specific features, then Amazon has the best search tools. All you have to do is to key in the features you prefer and a list of laptops will appear on your screen.
Other Benefits of Buying Products from Amazon
There are numerous benefits of purchasing Mac Kohl Eyeliner and other products from Amazon. Here are some of the common benefits:
Best Prices
There's no doubt that Amazon offers the best prices for most products. This is because the platform works in conjunction with a host of manufacturing companies and dealers. As a result, a lot of intermediaries are cut off hence reducing the cost of various products.
Reliability
Amazon is an international company that has offices and stores across the world. Their ability to deliver is much higher compared to other online platforms. Besides, they have great customer service that works round the clock to ensure customer satisfaction.
Huge Selection
Amazon has a large number of sellers from all over the world. This means that you can access a huge variety of products and services every day. It also means that you have different options to choose from.
For example, if you want to purchase a treadmill, you are able to compare the prices and specs from different sellers and make the right decision.
Trustworthy
The other advantage of purchasing products from Amazon is credibility. The company has been in operation for many years and there are lots of positive reviews from customers across the world.
How to Choose the Best Mac Kohl Eyeliner
As mentioned earlier, Amazon is one of the best platforms to purchase products like Mac Kohl Eyeliner. However, it can sometimes be a challenge to get the exact Mac Kohl Eyeliner you want, especially if you are using the platform for the first time.
Here are some of the things to consider when choosing the best Mac Kohl Eyeliner on Amazon:
Price
Price is one of the most important factors to consider when buying Mac Kohl Eyeliner from Amazon. There's no one who doesn't want to get quality products and reasonable prices. With Amazon, you are able to compare laptop prices from different sellers and settle on the most favorable one.
Brand
The other important factor you need to consider when buying a Mac Kohl Eyeliner from Amazon is the brand. Different sellers sell different types of brands and it is important to understand each type of the brands in order to make the right decision. High-quality and popular brands like Apple brand usually cost more compared to less popular ones.
Function
You also need to consider the functionality of a Mac Kohl Eyeliner before purchasing it. The functionality of any Mac Kohl Eyeliner usually depends on the specs it contains. The more sophisticated the specs are, the higher the functionality.
Old Customer Reviews
Most customers leave feedback with regard to their experience with the different Mac Kohl Eyeliner they bought from Amazon. The reviews are always displayed on the same page where the product is located. Looking at such reviews will help you to know whether the Mac Kohl Eyeliner you want to buy good or bad.
Mac Eye Kohl Pencil Liner
Mac Eyeliner Pencil
Related posts: