Beauties!
What it is: A lip pencil designed for shaping, lining or filling in your lips. What it does: It features a smooth, creamy texture perfect for outlining or coloring in lips and is available in a wide selection of colors that work well with many different lipstick shades. The lip pencil won't skip or drag, and it applies quickly and precisely, too. How to use: Apply before your lipstick by lining your lips using the pencil tip for a defined lip. Overall i'd reccomend MAC'S Soar LipLiner it's perfect and versitle as a nude tone or a brown pinky reddish tone, it's last power lasts up to 4hours ever when drinking or eating which is brilliant however beacuse it is a matte finnish lip liner i;d reccomend exfoliating your lips before hand if you do want a matte finnish beacuse it can cling.
As promised the other day, I said I would do some research for you guys and find some dupes for my Mac Soar and Mac Faux lip liner, and lipstick. Since today I'm spending the day relaxing at home, and recuperating from last night's birthday party, I thought I'd spend some time doing that. I'll link any good videos I find, as well, I'll post comparison swatches too.
Sit back and read on for the magic of a dupe!
xo, as always!
Belshy
Alright, so back to it, I did find a pretty good video with some affordable drugstore dupes for both liners and lipsticks that are pretty close matches for Mac's Soar lip liner. Who doesn't love a good, affordable dupe, right? A lot of these are very similar options, some ranging a little more pink, some being the same colour, just a little less vibrant. All are great options, and the colour pay off for the price is a no-brainer! Depending where you are, some of these can be hard to find, but never forget the option of purchasing online! (Be careful though, it's addicting!)
Check out the video if you want, it shows swatches so you can get the feel, but I'll list 'em below!
Starting with lip liners:
Milani #03 is a lighter, browner shade
Jordana in Tawny is the same colour but a little lighter
Essence #06 (Satin Mauve) is very similar in my opinion, the best lip liner option (and I love the brand, too!)
Nyx in Mauve is slightly pinker in my opinion, but very similar
Moving on to lipsticks:
Nyx in Natural is a little bit rosier, but if you like pink, it could be a good option
Nyx in Whipped Caviar is very similar and mentioned by so many different people as a good dupe!
L'oreal #519 (Tender Berry) is rosier, but very similar and probably the easiest to find universally
Nyx Butter Gloss in Angel Food Cake is a very similar colour, but because it's a gloss it's got less pigment and so not opaque, but great if you don't want the matte lip option, or if you're looking for something glossy that won't change the colour of your lips!
So those are the dupes for Soar lip liner, and probably very close to faux as well, since I don't find a huge difference between the two, they are very similar in colour, with Soar being a little bit more dusty rose than Faux lip liner! Now, moving on!
Let me tell you guys, finding you a dupe for Faux proved harder than I thought. Even other people couldn't find many. I watched a ton of videos, looked at a ton of swatch pictures, and I just wasn't finding many, so what I've compiled for you is a few that have similar colours, but are not exactly the same, and I'm not claiming any of these to be exactly the same to either shade, but definitely pretty close, so without further blabbering, let's finish this off!
These are all lipsticks:
Mac in Velvet Teddy is more brown, less pink, but still gorgeous! When faced with having to choose a colour, I was picking between three- faux, velvet teddy, and the next dupe I have for you. It's been rumoured that Velvet Teddy is also a colour that Kylie Jenner wears, so if you're looking for a Kylie dupe and Faux is out of stock, you can pick this one up instead!
Mac in Twig is a redder and more earthy, so I found darker. It's such a gorgeous colour, and I swatched it a few times but in the end Faux won me over.
Wet N' Wild in Bare it All is a matte finish rather than a satin, and I find it to be less mauve and more brown, but either way still gorgeous and probably the closest dupe. I actually have this one and swatched the two myself, I can add a photo so you can see below, it's a pretty similar dupe, and gorgeous either way!
Nyx in Pops is more pink, but still does the job of a neutral toned mauve.
Maybelline in Pinky-beige is a lighter pink and also has a different finish, but could do the job in a pinch
NYX in Abu Dhabi is browner but again close and could probably do the trick
Like I said, finding a dupe for Faux was a challenge, but I'd definitely say that the Wet N' Wild Bare it All is pretty close, and definitely worth having in your collection, especially at the low cost that it is!
I'd always recommend going with the colour that you're looking for first, but of course if you can't find it, or it's out of your price range, duping can be good and definitely better pricing. In the case of Mac, I was always under the impression that it was really expensive, but here in Canada it's only $19 per lipstick, which is great, especially since most lipsticks from Sephora are more than that, from any brand.
I've always been under the impression that Mac wasn't something I could afford or wanted to, because I find most Mac lipsticks so dupeable, but if you're looking for the gorgeous colour that Faux gives, I would definitely recommend spending the $16-$19, (depending where you are) because it's really not something that has a good dupe!
In summary, Mac Faux is next to undupable, but Wet N' Wild Bare it All is an almost perfect dupe for Velvet Teddy and both would be the closest acceptable options and Mac Soar has 2 dupes, a liner from Essence in #06 Satin Mauve, or a lipstick from Nyx in Whipped Caviar.
I hope this helped some of my beauties, I'll talk to you soon!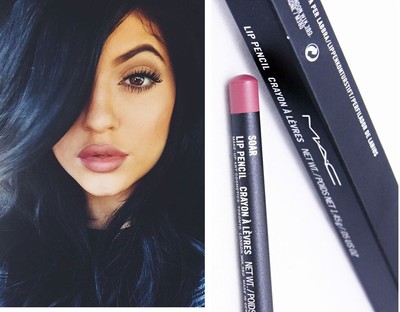 xo, for now!
Belshy

I have another MAC Cosmetics Lip Pencil dupe to share with you! The next shade up on the dupe list is "Soar", a mid-tone pinkish brown hue. After comparing several swatches, I have found a list of alternative shades for the popular lip pencil. Let's begin the dupes!
The Dupes

1. Colourpop Lippie Pencil "Brink" ($6)
Buy at AMAZON, COLOURPOP or ULTA.
2. NYX Slim Lip Pencil "Ever" ($4)
Buy at AMAZON or ULTA.
3. LA Girl Perfect Precision Lipliner "Blushing" ($4)
Buy at LAGIRL*(Use code KATY10 to save 10% off at LA Girl!)*
4. Barry M Lip Liner "Rose" (£ 2.99)
Buy at AMAZON.
More Dupes
Avon Glimmersticks Lip Liner Pencil "Mystery Mauve"
Buy at AMAZON.
Mac Lip Liner Soar Swatch
Essence Longlasting Lipliner "05 Lovely Frappuccino" ($)
Buy at AMAZON.
Primark Lip Liner "09"
Buy at AMAZON.
Lip Liner Soar Machines
Related Posts