Adrian Chandler Four Seasons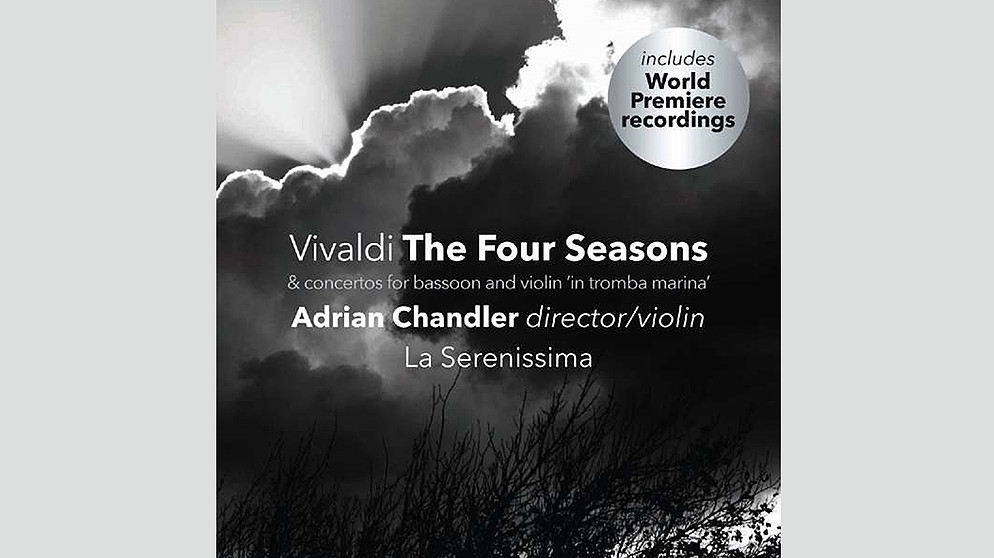 The Four Seasons, Concerto No. 4 in F Minor, RV 297 'Winter': I. Allegro non molto By Antonio Vivaldi La Serenissima, Adrian Chandler 10. The Four Seasons-Spring In E Major, Rv. The Four Seasons-Spring In E Major, Rv. Adrian Chandler. Adrian Chandler. The Four Seasons, Concerto No. 2 in G Minor, RV 315 'Summer': I. Allegro non molto. The Four Seasons, Concerto No. Listen to The Four Seasons, Concerto No. 2 in G Minor, RV 315 'Summer': I. Allegro non molto by La Serenissima & Adrian Chandler, 969 Shazams. 1 in E major, RV 269, 'Spring' I. Allegro (0:00) II. Largo e pianissimo sempre (3:23) III. Allegro Pastorale (5:55) Concerto No. 2 in G minor, R.
'>
The Four Seasons - Spring in E Major, RV. 269: I. Allegro
03:23
Drive Featured Album, from 28 September 2015 after 6pm.
Violinist Adrian Chandler and his period-instrument ensemble La Serenissima are celebrating their 21st anniversary with a unique and extremely vibrant recording of undoubtedly the most popular and most recorded piece of Baroque music.
Chandler has previously specialised in world-premiere recordings of rediscovered works by Vivaldi and his 17th-century Italian contemporaries, combining an intelligent and scholarly understanding of the works with accessibility.
Here he also includes Vivaldi concertos for bassoon, including the famous La Notte, and world-premiere recordings of two concertos for the violin in tromba marina, a hitherto obsolete instrument that was used during Vivaldi's lifetime, and that Chandler has helped to recreate.
This is an ensemble that clearly loves Vivaldi. Their energy, enthusiasm and passion for the music shines through and casts a new light on a very familiar work.
After the advent of cut and splice technology – and its use in the productions of CD recordings – lovers of classical music can be led to believe that every performance should be perfect, have no rough edges or loose ends. And yet "perfect" performances can be dry and lacking in human quality. In light of this, it was wonderful to hear La Serenissima give multi-dimensional, full-bodied performances in a concert celebrating one of the most human composers of all: Vivaldi.
The first half of the concert was comprised of four different Vivaldi concerti: two violino "in tromba marina" concerti were alternated with two bassoon concerti. The violino "in tromba marina" gave the evening's start a certain novelty. Both the instrument's colourful history and unique buzzing timbre accrued a high level of interest from the audience. Unfortunately these two concerti were the weakest in the evening: both items had problems with ensemble and balance. In sections of reduced instrumentation the violino in tromba marina struggled to hold the centre of attention against the continuo team.
In addition to this, Adrian Chandler's sound quality and intonation suffered at times, although this could have been in part due to the temperamental nature of his instrument. As Chandler wryly remarked, there was a reason that this instrument hadn't survived until the present day: the marina's pegs went a little haywire between movements. Still he gave the works a lot of character; the perky up-bow staccatos in the D major concerto gave the second movement a cheekiness, and the final movements in both concerti had a roughness reminiscent of a rustic barn dance.
The two bassoon concerti provided us with a contrasting sound aesthetic to the two marina concerti. Peter Whelan demonstrated his ability to draw a variety of timbral colours from the Baroque bassoon, producing a solid oaky tone in the first concerto, and more a dulcet one in the second. The variety of sound colours used by Whelan brought forth the works' latent expressive powers. The softer colours suited the arioso style of the second concerto, and the harder colours punched through the texture in the first. Expression was further heightened by Whelan's use of rubato, which was employed at particularly dramatic cadences.
The bassoon seemed to fare better than the violino de tromba marina against the rest of the orchestra balance-wise. Delightful counter-melodies – such as the beautiful cello continuo lines – were allowed to come to the surface at just the right moments. The ensemble itself matched Whelan in colour and expression, executing sharp juxtapositions in mood cleanly and bursting into the tuttis with frenzied excitement.
It was clear that the second half of the concert was much better rehearsed than the first. Previous issues with ensemble and balance disappeared as Chandler led La Serenissima through an adrenaline-fueled interpretation of Vivaldi's most famous work: The Four Seasons. The ensemble worked like a well-oiled machine, adapting quickly to Chandler's wild and unpredictable fluctuations in tempo. Indeed Chandler took a great deal of liberty with rubato. These liberties however did not cheapen the music at all, far from it. Instead they heightened the performance, keeping the audience right on the last millimetre of their church pews.
Chandler's tone varied from honeyed sweetness to rough and biting. His improvised decorations of repeated sections and also his cadenzas were truly stunning in their liquid fluidity and at times their chromatic adventurousness. Faster passages – at the end of Summer and the perilous triplets at the beginning Spring – were not totally note-perfect, but this was made up for by Chandler's spirit, fervour and originality.
Chandler's fresh approach was reflected in the orchestra as well. In Summer's Presto they matched him in both commitment and technical ability. Real gems included the second movement of Autumn, where Vivaldi's progressive harmonies were allowed to speak for themselves, and the harpsichordist was able to demonstrate his improvised realisations. The second movement of Winter was my highlight. Here the cellist and theorbo player gave beautiful arcs to the phrases; together they propelled the movement forward with constant semiquaver motion, giving it a clear sense direction and also giving Chandler's improvised ornamentations an extremely strong musical foundation. It was a pleasure to see the cellist take as much delight in this aspect of the Manchester version of the score as the audience.
The audience was recompensed in full for the initially uneven standard of music-making. La Serenissima reminded us that a good performance is not necessarily a note-perfect one. A good performance is passionate, entertaining, and sometimes sacrifices fine details in favour of big dramatic gestures.
See full listing
Reviewed at Great St Mary's Church, Cambridge on 21 November 2015
Vivaldi
,
Concerto for violin 'in tromba marina' in D major, RV 221
Vivaldi
,
Concerto for violin 'in tromba marina' in G major, RV 313
Vivaldi
,
Bassoon Concerto in B flat major 'La Notte', RV 501
Vivaldi
,
The Four Seasons (Il cimento dell'armonia e dell'inventione), Op.8 no. 1-4
Adrian Chandler
,
Director, Violin
Calms and storms: La Serenissima
Adrian Chandler and La Serenissima showcase dramatic Vivaldi motets in a lively programme of lesser known Pietà music.
****1
The Dawn of the Stradivarius: James Ehnes and La Serenissima in Oxford
"The name Stradivarius had an air of magic to me." Virtuoso violinist James Ehnes' statement manages to capture the air of reverence which underpinned Friday's Music at Oxford concert. The gala marked the opening of the UK's first Stradivarius exhibition at Oxford's Ashmolean Museum, and two violins from the exhibition were on temporary release for the evening.
****1
Vier Violinen und ein Mezzo: La Serenissima in der Wigmore Hall
Das Spielbewusstsein und Feuer La Serenissimas gepaart mit dem Contralto-Wahnsinn Jess Dandys sorgte für einen beachtlichen Hochgenuss.
****1
Adrian Chandler Four Seasons Family
Calms and storms: La Serenissima
Adrian Chandler and La Serenissima showcase dramatic Vivaldi motets in a lively programme of lesser known Pietà music.
****1
More reviews...
Related articles
Alex Tay is a recent graduate from King's College, Cambridge, where he studied Music. He is an enthusiastic composer, violinist and has strong interests in arts administration. He has had works performed in venues such as West Road Concert Hall, Kings College Chapel and the Royal Albert Hall. Last year Alex held the position of Cambridge University Music Society Joint-Composer-in-Residence which culminated in a commission for the Harrison Birtwistle Secret Theatres Festival. More recently Alex has been announced winner of the Britten Sinfonia Cambridge Composition Workshop. Next year Alex will be studying an Mphil in composition at Churchill College Cambridge.
To add a comment, please sign in or register
Adrian Chandler Four Seasons Cast
Mobile version